Harvard Connection: Pulitzer Prize Winners
Nicholas Kristof AB'82
Sheryl WuDunn, MBA'86
Illinois Holocaust Museum
Community Partners: ACLU of Illinois; A Better Chicago; Open Communities; Harvard Club of Chicago

SPECIAL PROGRAM: Immediately following the webinar, Nicholas Kristof will meet privately with HCC group.
Private Virtual Post Program Reception with Q and A for Harvard Club of Chicago attendees.
There will be a separate Zoom meeting ID for this private event.

EVENT DETAILS:
Date: Thursday, October 1, 2020
Time: 6:30 - 7:45 pm
Virtual Book & Author TIGHTROPE: AMERICANS REACHING FOR HOPE featuring Harvard graduate, Nicholas Kristof and Harvard Business School graduate, Sheryl WuDunn.
Description: Hear Pulitzer Prize-winning authors Nicholas Kristof and Sheryl WuDunn as they explore rural America's challenges in education, healthcare, employment, and judicial processes with their 2020 New York Times bestselling book, Tightrope: Americans Reaching for Hope. Kristof and WuDunn will share Tightrope's compelling appeal to address the many crises facing rural Americans.
This program was brought to us and is being introduced by our esteemed Museum Board Vice President, Richard Salomon, also a Harvard Graduate.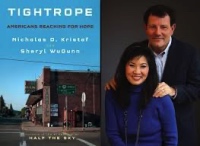 .
.
To buy Tightrope, visit Goodreads, where you can choose the book vendor.
.
.
.
EVENT DETAILS:
Date: Thursday, October 1, 2020
Time:
6:30 - 7:30 pm Webinar
7:30 - 7:45 pm private meeting with Nicolas Kristof
Location: VIRTUAL
Cost: HCC members only: $10
AFTER REGISTRATION: BOTH ZOOM MEETINGS LOGIN DETAILS WILL BE SENT BEFORE THE EVENT FROM THE HOLOCAUST MUSEUM.
Harvard Club office:
Tel: 1-847-256-1211
Email: office@harvardclubchicago.org