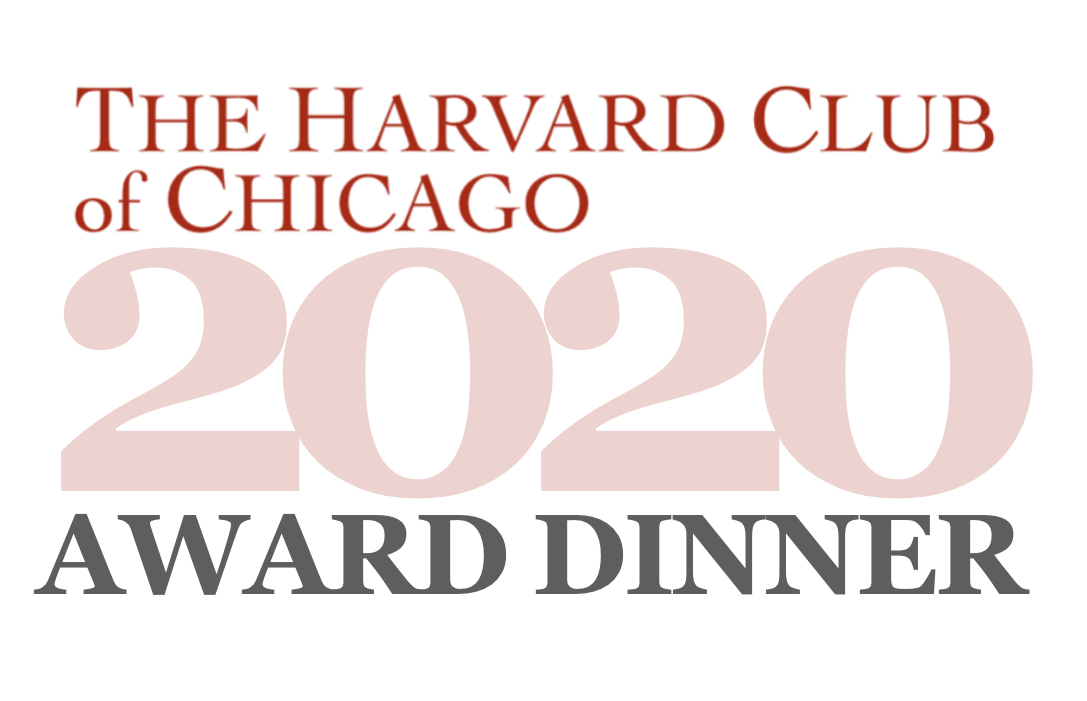 The HCC 54th Annual Award Dinner
Saturday, February 22, 2020 | 6pm

| The Chicago Club
2020 Guest Speaker & Awardee:
Robert J. Zimmer, President, The University of Chicago
The Harvard Club of Chicago cordially invites you and your guests to join us for our 54th Annual Award Dinner on Saturday, February 22, 2020 at 6pm at The Chicago Club.
This year, we are honored to recognize and host a discussion with Robert J. Zimmer, AM71 PhD 75, President of the University of Chicago. Under President Zimmer's leadership, the University of Chicago has become one of the most sought-after undergraduate colleges and enhanced its position as one of the world's leading research universities.
In conversation with our past President Richard W. Shepro AB75 JD79, President Zimmer will discuss the major challenges facing universities in general and how the University of Chicago is handling these issues, including free expression on campus, academic freedom, global competition, university access, student debt, immigration, and vital research.
We are offering individual tickets as well as opportunities to support the Club and our Harvard community through Patron, Benefactor (table), and individual Sponsor tickets.
We look forward to seeing you and your guests on February 22nd!
---
2020 Award Dinner Details
Date: Saturday, February 22, 2020
Time: Reception 6pm; Dinner 7pm
Location: The Chicago Club, 81 E. Van Buren St. (View Map)
Parking: Valet parking available
Attire: Business (Jacket & Tie/Cocktail)
Cost: Individual tickets: $160 members; $175 non-members; $85 recent grad members (college classes 2015-2019). Patron: $300. Benefactor: $3000 (table of 8). Sponsor ticket: $160 for a member of our Harvard community who may not have the resources to attend.
RSVP*: This event fills quickly, so please respond soon! You may purchase all tickets here.
*Registration closes no later than 2/19/20, 4pm Central. No refunds unless cancellation is received by 2/18/20, 4pm Central. If you are in need of a sponsor ticket, please contact us (all information will be kept anonymous).
​

---
2020 Guest Speaker & Awardee: Robert J. Zimmer
On July 1, 2006, Robert J. Zimmer became the 13th President of the University of Chicago.
Prior to his appointment as President, Zimmer was a University of Chicago faculty member and administrator for more than two decades specializing in the mathematical fields of geometry, particularly ergodic theory, Lie groups, and differential geometry. As a University of Chicago administrator, Zimmer served as Chairman of the Mathematics Department, Deputy Provost, and Vice President for Research and for Argonne National Laboratory. He also served as Provost at Brown University from 2002-2006, returning to Chicago in 2006 to become President of the University.
As President of the University, he serves as Chair of the Board of Governors of Argonne National Laboratory; Chair of the Board of Directors of Fermi Research Alliance LLC, the operator of Fermi National Accelerator Laboratory; and Chair of the Board of Trustees of the Marine Biological Laboratory. He is a fellow of the American Academy of Arts and Sciences and the American Association for the Advancement of Science. From 2011 to 2016, he was a member of the National Science Board, the governing body of the National Science Foundation, and also served on the President's Committee on the National Medal of Science from 2008 to 2010.
President Zimmer is the author of three books, Ergodic Theory and Semisimple Groups (1984), Essential Results of Functional Analysis (1990), and Ergodic Theory, Groups, and Geometry (2008); and more than 80 mathematical research articles. He served on the Board of Mathematical Sciences of the National Research Council from 1992 to 1995, and was on the executive committee from 1993 to 1995. Zimmer held the title of Max Mason Distinguished Service Professor of Mathematics at Chicago before leaving for Brown, where he was the Ford Foundation Professor of Mathematics in addition to being Provost.
He earned his A.B., summa cum laude, from Brandeis University in 1968 and a Ph.D. in mathematics from Harvard University in 1975, and joined the Chicago faculty as an L.E. Dickson Instructor of Mathematics in 1977. He was also on the faculty of the U.S. Naval Academy from 1975 to 1977 and has held visiting positions at Harvard University and at institutions in Israel, France, Australia, Switzerland, and Italy.
President Zimmer has honorary degrees from Tsinghua University and Colby College. In 2017 he was given the Philip Merrill Award for Outstanding Contributions to Liberal Arts Education by the American Council of Trustees and Alumni (ACTA). He is a frequent commentator on free expression and academic freedom.
We are honored to recognize Mr. Zimmer's contributions and impact on Chicago and the global academic community.
---
Supporting our Club & Community
Patrons & Benefactors: The Harvard Club of Chicago is 501(c)(3) non-profit organization serving Harvard students, parents of current students, and Harvard alumni throughout the Chicago area. Our membership fees support only a portion of our expenses. Our Schools Committee work, including organizing more than 1,300 Harvard College applicant interviews per year, is supported by generous donors. Our programs, averaging twenty per year, strive to break even. Your support for the Club through your membership and Patron or Benefactor (table) purchases at our Annual Dinner make our operations possible and are greatly appreciated. All Patrons & Benefactors will be listed (with permission) in the Award Dinner program.
Sponsor Tickets: This year, we are offering the opportunity to support those in our Harvard community who may not have the resources at this time to attend the Annual Dinner. If you wish to sponsor a member of our local Harvard community, please consider purchasing a Sponsor ticket in addition to your own. Sponsor tickets are made available to those who contact us. All sponsor recipient information will be kept anonymous.
---

Award Dinner Sponsors
The Harvard Club of Chicago
The Harvard Black Alumni Society of Chicago
The Harvard Business School Club of Chicago
The Harvard Law Society of Illinois
The Harvard Medical Society of Chicago
The Graduate School of Design Chicago Alumni
The John F. Kennedy School of Government Chicago Area Alumni Association


---
When:
6:00PM - 9:00PM Sat 22 Feb 2020 ( Timezone: Central )

Where:
The Chicago Club
81 E. Van Buren Street
Chicago, Il 60605
[ Get Directions ]
Look Who's Coming:
Robert Bernat
Steven Schaumberger
Paula Daniliuc
Charles Bergen
Hanna Stotland
Guest of Hanna Stotland
David Mann
Jose Cerda III
Macol Stewart Cerda
Tricia Felice
RedMark Group
Zhengwen (Owen) Li
Douglas Lyons
Susan Lyons
Guest of Doug Lyons
Lucy Baird
Reva Minkoff Lyttle
Derek Lyttle
Blasko Ristic
Lisa McClung
Terence Brennan
Gilmore Brennan
Daniel Cedarbaum
Caryn Jacobs
Michael Walsh
Kristopher Mendez
Jeanne Gang
Mark Schendel
Kimberly Dowdell
HOK
Paul Finnegan
Guest of Paul Finnegan
Ethel Gofen
William Gofen
Benjamin Tobacman
Larry Tobacman
Joanne Tobacman
David Scherer
Guest of David Scherer
Guest of David Scherer
Guest of David Scherer
Desmond Wong
Edgar Gonzalez
State Representative of Illinois' 21st District
Riccardo Mascia
Guest of Riccardo Mascia
Robert Hastings
Guest of Robert Hastings
Rosemary Kehr
Ann Brennan
Executive Benefits
George Hodakowski
John McCarter
Judy McCarter
William Lear
Guest of William Lear
Jason Koh
Murray Levin
Joan Levin
Mark Irwin
Devon Cross
Julia Monfrini Peev
Miroslav Peev MD
Paula Duffy
Reid Hastie
John Rielly
Sit with KSG
Irene Rielly
Robert Feitler
Joan Feitler
William Haddad
Sit with College or Law Society
Kelli Heinz
Seat with Business School
Stephen Wasko
Jacqueline Wasko
Danielle Cupps
Guest of Danielle Cupps
Guest of Danielle Cupps
Guest of Danielle Cupps
Reid Bolton
LeRoy T. Carlson, Jr.
AB 1968, MBA 1971
Catherine Mouly
AB 1974
Joan Chiao
Jonathan Schwartz
Michael Halas
Corrie Halas
William Komaiko
Paul Karafiol
Allison Clark
Edward Dumoulin
Aubrie Kiel
Michelle Kassen
Guest of Michelle Kassen
Richard Shepro
Lindsay Claire Michael Roberts Shepro Salazar (3)
Rebecca Ribaudo
Michael Derick
Derick Dermatology, LLC
Amy Derick, M.D.
Derick Dermatology, LLC
Phillip Acevedo
Gabriela Illa
Gretchen Sims
Ana Danciu
seat w/Schaumberger/HBS group
Marcus Hall
Perpetua Goodall
University of Chicago
George Lowery
class of 1985 or KSG group
Henrietta Lowery
Ann Carter
Lisa Medalie
John Knoebel
James Stone
Gary MacDougal
Guest of Gary MacDougal
Nancy Berman
... a total of 112 guests.
Note: to opt out from this list please sign in, go to My Account and change your preferences under My RSVPs.