SOLD OUT - Lunch with Chris Kennedy, Illinois Gubernatorial Candidate
Another in our series of talks with the candidates
(This event is in no way an endorsement or fund raiser for this candidate.)
Join Chris Kennedy, Illinois Gubernatorial Candidate, with the Harvard Club of Chicago and Harvard Business School Club of Chicago, for a light lunch and conversation on Wednesday, March 7th.
The HCC and HBSCC will invite guests to enjoy lunch beginning at 11:30 am. Chris Kennedy will be introduced promptly at 12 noon.

Date: Wednesday, March 7, 2018
Time: 11:30 am - 1:00 pm
Location: XAInvestments, 321 North Clark Street, 24th floor

Click here to buy tickets!!!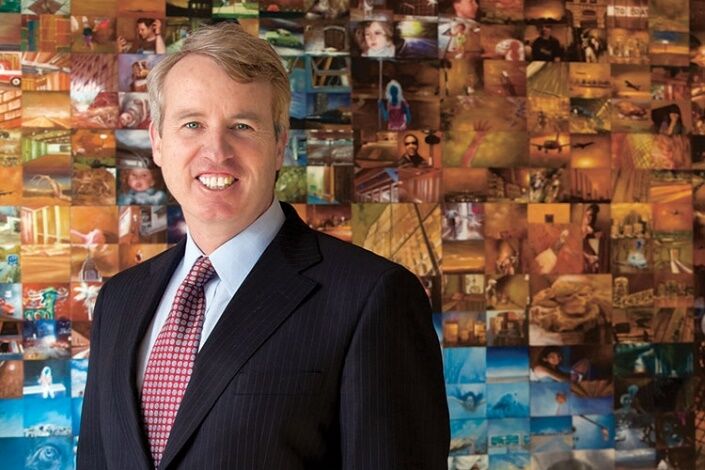 Chris Kennedy
Chris and his wife, Sheila, run Top Box Foods, a hunger-relief non-profit they founded to deliver high-quality, healthy, affordable foods to underserved neighborhoods. Previously, he served as Chairman of the Board of the Greater Chicago Food Depository, the nation's leading non-profit food distribution and training center, which provides food to more than 600,000 adults and children each year.
Chris managed the Merchandise Mart, one of the great economic engines of Illinois. As President of the Mart, Chris worked with governmental agencies, labor groups, and independent small businesses to bring companies and good jobs back to Illinois. Under Chris' leadership, the Mart became one of the largest LEED-certified buildings in the world.
Now Chris is leading the real estate development in downtown Chicago known as Wolf Point. Wolf Point is a massive construction project backed by more than $1 billion in private financing that is bringing 2,000 construction and permanent jobs to Illinois.
Earlier in his career, Chris worked for Archer Daniels Midland, a leader of Illinois' agricultural industry and one of the largest corporations in the state. He currently serves on the board of multiple large manufacturing companies and investment funds. Chris earned his MBA from Northwestern's Kellogg School of Management.
From 2009 through 2015, Chris served as chairman of the University of Illinois Board of Trustees. At U of I, Chris oversaw a $5.5 billion budget, 78,000 students and more than 23,000 faculty and staff. During his tenure, he reformed the administration and admissions process and grew the endowment and increased financial aid. He is a former Trustee for the Catholic Theological Union, one of the largest schools of theology in the world.
EVENT DETAILS:
DATE: Wednesday, March 7, 2018
TIME: 11:30 am - 1:00 pm Lunch
LOCATION: XAInvestments, 321 North Clark Street, 24th Floor, Chicago, IL 60654
COST: HCC Members and their guests: $25/person
Non-members of the HCC: $45/person
Crimson Passport and Crimson Passport & Guest Members: Free
ADVANCE REGISTRATION REQUIRED, NO WALK-INS (DUE TO BUILDING SECURITY POLICY).
NOTE: You will also be required to show a photo ID in order to gain access to the building.
Reservations will be held at the door.

When:
Wednesday, 03/7/18 at 11:30am - 1:00pm | iCal
Where:
XAInvestments
321 North Clark Street 24th Floor
Chicago, IL 60654 US
[ Get Directions ]
Enter Waitlist Here...
Look Who's Coming:
Steven Schaumberger
Anne Gauthier
George Gauthier
Marcia Johnston
Joy Meek
Julie Wheeler
Rich Gallun
Susan Gallun
Hanna Stotland
Nada Stotland
Jesse Reising
Vesna Neskow
Elizabeth Neskow
Danielle Cupps
Kinzie Capital Partners
Patrick Ireland
Brian Ibsen
William O'Malley
Guest of O'Malley
Matthew Van Tine
Thomas Bearrows
Ricardo Rodriguez
Barbara Hall
Joe Hall, Jr.
Linda Goodman
Lawrence Sucsy
Rowena Boysen
Jonathan Schwartz
Roberta Rubin
Bennett Clarke
John Gallo
Michael Monovoukas
... a total of 35 guests.
Note: to opt out from this list please sign in, go to My Account and change your preferences under My RSVPs.
Click here to buy tickets!!!
Please note that unless you are a non-alumnus/a, or just arrived in the Chicago area you are in our database. Therefore you MUST LOG-IN, using your " HarvardKey" username and password (not necessarily your post.harvard email address), before completing your ticket purchase, otherwise you will create a redundant record and will have to enter all your contact information again.

CANCELLATION POLICY: All cancellations must be received during normal business hours, 2 business days prior to the event or the attendee who made the reservation will be charged due to costs associated with the reservation and/or the event itself, regardless of actual participation.

Harvard Club office:
Tel: 1-847-256-1211
Email: office@harvardclubchicago.org