Harvard Connection - John J. Brennan MBA '80, Chairman of the Board of Trustees, University of Notre Dame
The Power of Education: John Brennan Shares His Life Lessons

Event Details:
Date: Monday, February 12, 2018
Time: 6:30 PM
Location: Regina Dominican High School, 701 Locust Road, Wilmette, IL
Cost: Free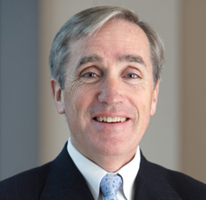 John J. Brennan MBA '80 is currently Chairman Emeritus and senior advisor of Vanguard. He is a director of General Electric Company, and on the boards of several other prominent companies. He earned his bachelors degree from Dartmouth, MBA from Harvard Business School, and has honorary degrees from Curry College and Drexel University. John is a member of the Pennsylvania Early Learning Investment Commission. For more information, and to register for this free lecture, click here.