ARTIST SHEILA ARORA AT THOMAS MASTERS GALLERY - DECEMBER 5, 2017
The Princeton Club of Chicago invites the Harvard Club of Chicago to join

Sheila Arora

for a presentation of her latest works and a conversation highlighting her dual careers in finance and as an artist. Come early to explore the gallery while you enjoy a glass of wine!
Join fellow alums and Princeton Club of Chicago at this special event at Thomas Masters Gallery. First opened in 1993, Thomas Masters Gallery represents a number of different artists and showcases a variety of mediums, including sculpture, painting, works on paper, and photography. Owned and managed by Thomas & Agnieszka Masters, the gallery is dedicated to developing young emerging artists like Sheila Arora. Over the years, a number have gone on to achieve great success in the art world. Thomas Masters is an accomplished musician and artist and has been featured in the New York Times for his ongoing collaboration with Chef Grant Achatz of the world-renowned restaurant, Alinea.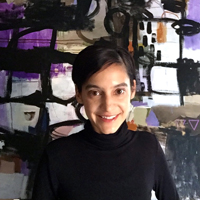 Sheila Arora
Sheila Arora is an abstract painter. She works with an intuitive painting style. Her paintings are full of energy and reflect her active mind. Sheila started out as a realistic painter and discovered the abstract painting several years ago. The abstract work is a great fit with her style. She has a natural sense of color and composition that she expresses boldly on the canvas. Her paintings are full of exciting combinations of colors, lines and shapes. In addition to painting, Sheila works in Finance at Walgreens.
She graduated Phi Beta Kappa from Princeton University with a degree in Economics. She has an MBA with High Honors from the University of Chicago Booth School of Business.

EVENT DETAILS:
DATE: Tuesday, December 5, 2017
TIME: 6:00 - 7:30 pm
6:00: Mix/Mingle, Light refreshments
6:30: Presentation/Conversation
7:00: Q&A
LOCATION: Thomas Masters Gallery
245 W North Avenue
Chicago, IL 60610
COST - FREE but registration is required
CLICK HERE to RSVP at Princeton Club of Chicago